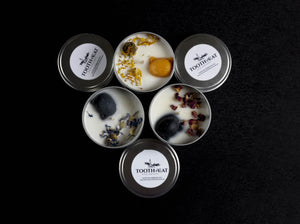 This three-candle set that includes a different cat embellishment in each candle. All candles come in 8 ounce tins, are handmade and hand poured with soy wax and are made with a blend of essential oils and  phthalate free fragrance oils. The set includes the following:


Pumpkin Cat- Pumpkin, cinnamon, ginger, allspice, clove, oud, sandalwood and amber.
 Witch's Cat -Incense, fire, orange peel, clove, and sandalwood.
 Wizard's Cat – Lavender, balsam, cedar, vanilla, incense, plum, fir, saffron, cinnamon, wood, benzoin, sandalwood, patchouli, and oak.